October 13, 2023
ENGLEWOOD PD
UPDATE: ARREST MADE Click Below
The Englewood Police Department urgently seeks your assistance in an ongoing investigation concerning a burglary that occurred today, October 13, 2023, on Old Quarry Road between the hours of 11:30 am and 4:15 pm. Your help can play a pivotal role in resolving this case and ensuring the safety and security of our community.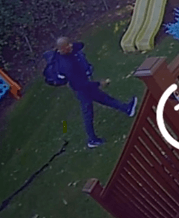 We kindly request that all residents in the vicinity of Old Quarry Road review their Ring video footage to help us identify potential suspects who may have been captured on camera.
The following suspects are of particular interest in this investigation:
First Suspect: Male individual wearing blue pants and a blue shirt and carrying a blue duffel bag.
Second Suspect: Male individual wearing blue jeans, a blue jacket, red hat, black shoes and carrying a tan duffel bag.
If you have any footage or information that could help us identify and locate these individuals, please contact the Englewood Police Department immediately. You can reach us at 201 568-2700 or db@englewoodpd.org. Any details, no matter how small they may seem, could be crucial to our investigation.
You can also submit your tip to Crime Stoppers which offers up to a $1,000 cash reward for any information that significantly assists Detectives in their investigations. Tips can be made anonymously on the group's website at bergencrimestoppers.org or by calling 844-466-6789, 24 hours a day, 7 days a week. Citizens can also "like" Crime Stoppers at https://www.facebook.com/bergencrimestoppers/ or follow on Instagram at bergenj_crimestoppers
Your cooperation is invaluable in maintaining the safety and security of our community. We appreciate your commitment to keeping Englewood a safe place to live and work.